About us
Shah Goverdhan Lal Kabra Teachers' College (C.T.E.), Jodhpur (Formerly known as Shri Mahesh Teachers College) is one of the oldest Teachers' Colleges of Rajasthan and was established in 1961. The College is recognized by the National Council for Teacher Education (N.C.T.E.) for B.Ed. and M.Ed. Programs. It is affiliated to Jai Narain Vyas University, Jodhpur for B.Ed., M.Ed, and Ph.D. (Education) Programs. The College has also been registered under Sec. 2(f) and 12(B) of the U.G.C. Act for both Under Graduate Course (B.Ed.) and Post Graduate Course (M.Ed.).
This was the first Teachers' College in Rajasthan which was upgraded to C.T.E. (College for Teacher Education) under the Ministry of Human Resource Development (M.H.R.D.) Government of India, New Delhi – Centrally Sponsored Scheme in 1988. Under this scheme, Content-Based and Theme Based Orientation Courses for the Government In-Service Secondary School teachers are organized every year.
For a period of 05 years starting from 31st March 2007, the College has been Accredited by National Assessment and Accreditation Council (NAAC), Bangalore with B++Grade (Institutional Score between 80% to 85%).
The College is a dreamchild of Lt. Shah Goverdhan Lal Kabra who being a visionary could foresee as back as in the 50's the need for the Teacher Education Program. He found Lt. Shri Suraj Narayan Balya with whom he could realize his dream of having Teachers' College in Jodhpur Division.
The College is a Study Centre of the B.Ed. The course of Indira Gandhi National Open University (I.G.N.O.U.) having Code No. 2351(P).
The College is run by a Society known as Shri Mahesh Shikshan Sansthan, Jodhpur. Shri Ramesh Somani is its President, Shri Aditya Vikram Somani is Vice President, Shri Hari Gopal Rathi and Shri Kailash Chand Modi are its Hony. Secretary and Treasurer respectively.
Our Inspiration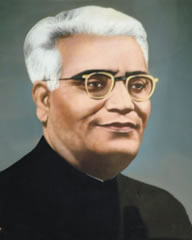 Shah Goverdhan Lal Kabra, the founding father of the College, belonged to a renowned family of the Kuchaman City of Marwar. The title of "SHAH" was bestowed upon him by the erstwhile Jodhpur State for his outstanding services in various fields of life. He was well known as Shahji amongst all who knew him.
Throughout his life, he radiated excellence and brilliance in almost all fields. His knowledge in various disciplines brought for him the highest appreciation. His contribution to the uplift of society and his devotion and service to Jodhpur in particular and Rajasthan, in general, have been remarkable.
Music had been his passion. He himself was a qualified musician and the honor of being the first Chairman of Rajasthan Sangeet Academy goes to him. In the recognition of his keen interest in music and art, he was bestowed upon the title of 'Rasikvar' by Lt. Dr. Sampurna Nand, the then Governor of Rajasthan.
In 1939 he established the Chamber of Commerce in Jodhpur and remained its President for 20 Years. In 1940 he was nominated Member of Public Service Commission, Jodhpur.
In the commemoration of his cherished memories of the Rashtriya Kala Mandir, Jodhpur organizes 'Rasikvar Sangeet Sammelan' every year since the time he left for his heavenly abode.
Vision & Mission
Vision & Mission Shah Goverdhan Lal Kabra Teachers' College has been conceptualized by Shah Goverdhan Lal Ji Kabra (Former Chairman of this College) to materialize the ethos of the national building by developing resourceful teachers who can develop resourceful citizens for the country. He never believed in increasing the number of colleges but he always emphasized quality education. This is possible by continuous learning and consistent effort. This motto of the college is reflected in its slogan:-
"ONE WHO DARES TO TEACH MUST NEVER CEASE TO LEARN."
The importance of education in the life of an individual cannot be overstated. It shapes individuals in their formative years and imbues them with values that would govern all their choices in life. It is said 'If you are planning for a year, sow rice; if you are planning for a decade, plant trees; if you are planning for a lifetime educate people'. He always emphasized quality, not quantity. Indeed he believes that the quality of education will determine the destiny of the nation.
The architects of this college believed that an educational program should be able to promote the development of a harmonious personality and to maintain our Indian culture which makes us different from the crowd. At Shah Goverdhan Lal Kabra Teachers' College, while educating brains we do not neglect to educate the heart. This institute trains prospective Teachers with the vision to educate the child with traditional values & modern thoughts. For this institute, education means: to empower prospective teachers to discover themselves – who they are as teachers and how they can endow an identity to an individual as every child is the masterpiece of god's creation. It can be said education is not preparation for life; education is life itself.